Segovia and the surrounding area turned out to be great for walking and hiking.  In addition to the walking in town ( read my article about visiting Segovia here ) I found numerous pathways on the mesas above the town that gave the opportunity to walk through farmlands above the town.  Many of these afforded great views into the town as well as across the fields to the snow-capped Sierra Guadarrama.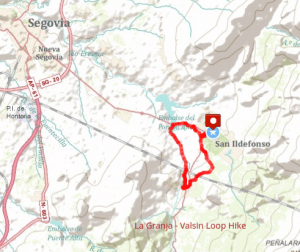 But I also wanted to get into the Guadarramas … I wasn't able to get much local advice other than to head to La Granja de San Ildefonso, an interesting town about 12 kilometers South of Segovia that is reachable by public bus service.  La Granja is the start of the foothills of the Guadarramas along the Eresma River.  Getting to La Granja led to finding out about four interesting loop hikes in the area for which I've included route maps in this article with a link to my GPS tracks (the La Granja-Valsain Loop is pictured to the right).  The GPS seemed kind of hinky in this area for some reason (maybe international compatibility issues?) so I would get local info rather than relying too heavily on them.  I think they are fine for knowing what hikes exist and doing some advance planning.
Following are images from hiking and walking in the Segovia area  (captions, when provided, appear before the related images):
Trails and pathways ranged from dirt to rock to farm tracks …
Mountain streams feed the main watershed in the area which is the Eresmas River …
On the mesa above Segovia the tall structures (such as the Cathedral) seem to leap up from the fields …
It was not uncommon to encounter gated .. I just made sure to leave them like I found them …
The Rio Eresmas …
Signage seemed to be a bit inconsistent and erratic.  I found myself needing to use gut feel and instincts a good bit …
View across the lake near La Granja …
La Granja is a pretty town that is the home of a famous royal palace … maybe I'll get to that in another article.
Valsain is a mountain village that is the turnaround point for the La Granja – Valsain loop hike.
Cabeza Grande loop hike route: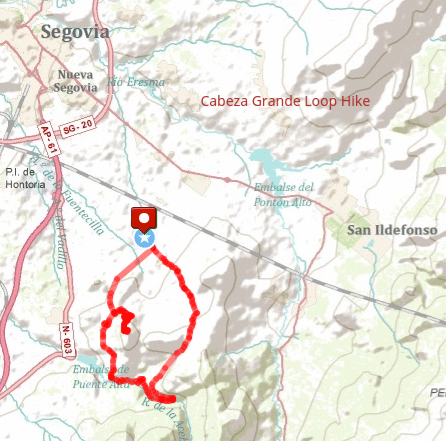 Cerro Camorca loop hike route: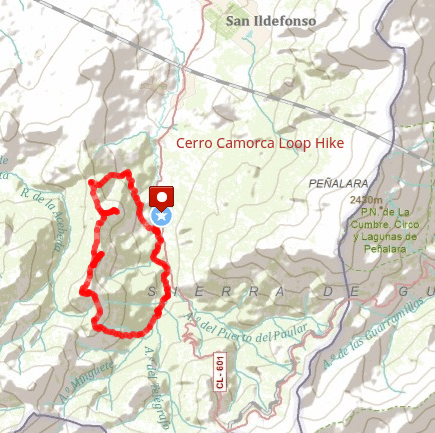 Silla Rey loop hike route: