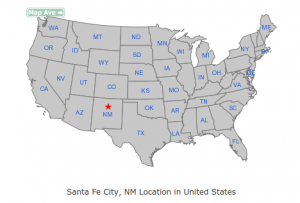 Bear Wallow Loop to the Chile Line features a hike in the Sangre de Cristo mountains near Santa Fe, New Mexico followed by lunch and a beer at the closest brewery – the Chile Line Brewing Company.  The hike is a four-miler with grades up to 20% in places so it was not difficult to work up a thirst.  Chile Line Brewing Company is owned by a high school classmate of my oldest son who I had not seen for may years.  In addition to good beers and a tasty lunch, it was fun to catch up and see how his business was going.
Bear Wallow Loop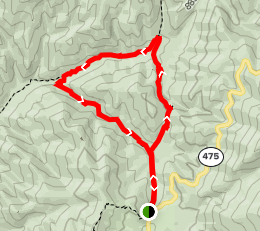 What I am calling Bear Wallow Loop is sort of a triangle the uses three popular trails.  I started on the Borrego Trail through a stretch of beautiful forest.  Borrego meets up with the Winsor Trail at a big open meadow and a crossing of Tesuque Creek.  From there, Winsor follows the creek downstream before intersecting with Bear Wallow Trail.  Bear Wallow is a steady climb up a steep-sided canyon to complete the loop.  I guess I could have called the loop something else, but "bear wallow" just sounded cool to me.
You may click on any gallery image to see it in a larger format and to open a slideshow viewer that lets you scroll through larger versions of all images.
Chile Line Brewery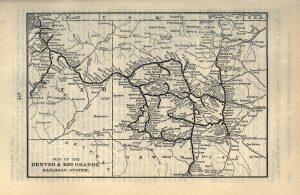 The closest brewery after the hike is the Chile Line Brewery in the old center of Santa Fe.  It's generally expensive real estate in old Santa Fe so most of the breweries are found in newer parts of town.  Chile Line was the common name for a historic narrow gauge rail connection between Santa Fe and Antonito, Colorado.  The 125 mile spur was operated by the Denver and Rio Grande Railway (D&RG) between 1880 and and1941 when it was closed and subsequently dismantled.   I guess the nickname came from the trains carrying lots of chile and chile eaters.  Brewery owner Alexander Pertusini told me he liked the name because he was once a Los Alamos Boy Scout and the history of the Chile Line included carrying boy scouts bound for the Ranch School in Los Alamos.  The current location of the brewery is near where the Chile Line's servicing facilities were.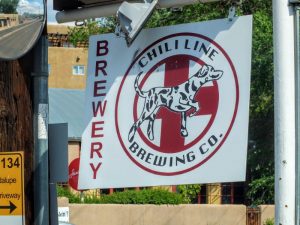 The Chile Line Brewery logo features a dalmatian.  If you look closely, you'll see that the spots on the dalmatian are in the shape of chile peppers.  The dalmatian is a tribute to Xander's dog Hugo who was a regular fixture in the early days of the business.  At that time, Alexander lived above the brewery in a rooftop apartment and Hugo would spend time sitting on the edge of the roof above observing the action in the beer garden.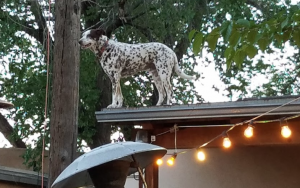 Xander told me he got into brewing in college while studying in a biofuel and algae program.  He found he liked yeast a lot more than algae and that came together naturally with his experience working in his family's Santa Fe restaurants since he was a kid.  Xander's father is an Italian immigrant and there is still a lot of family in the Lake Como region.  During a trip there a few years ago, a relative gave him their car keys and encouraged him to take a road trip to Bamberg, Germany – one of the great beer meccas of the world.  He made the seven-hour drive, experienced Bamberg's smoked beers, and found his way to the Weyermann Malt plant and its interesting array of specialty malts.  Xander came home a devotee to smoked beers – I saw the slogan "America's Smoked Beer Brewery" on some of the servers' T-shirts.  (Read stories about visits to Weyermann and Bamberg,)
Xander told me that he has had to tone that down a bit over time though as popular tastes haven't discovered or opened up to the idea of smoked beers quite yet.  The average person walking in is usually bought into the idea that craft beers are supposed to be hoppy so the focus on smoked malts is not an easy sell.  I sampled a very nice smoked helles (I think called Helles Belles) that I would drink again for sure.  The helles uses 12% smoked malt in the grain bill.  Xander said that although he is making fewer smoked beers than at one time, he is keeping the dream that tastes will expand and he puts at least a token bit of smoked malt into everything that he brews.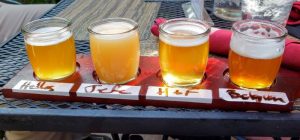 Chile Line features seven mainstay beers and there were several specials on tap when I was there.  That seems like a lot for the one-barrel system and Xander agreed that they can get stretched at times.  He uses Kveik yeast in quite a few recipes and that has allowed for higher temperature and faster fermenting and he said it helps produce nice clarity.  Green Chile and Red Chile beers with a bit of smokiness have provided a distinctive New Mexico hook that Xander said have proven to be popular.
A saving grace during the Covid year was the arrival of an expensive canning machine early during the shutdown.  There were worries about how to pay for it, but fortunately, a Small Business Administration pandemic grant came in that allowed paying off the machine.  They ended up selling thousands of cans of beer for carry-out that went nicely with the carry-out pizza menu.  These things contributed in a big way to keeping biz afloat.
For more stories about hikes and beers in New Mexico, CLICK THIS LINK.